Proven technology meets modern design with crankcase separator
Based on proven technology – the world-famous industrial centrifugal separator from Alfa Laval – but adapted to perfectly fit modern engines, the Alfdex g-Cleaner™ is a unique product. It uses the centrifugal separation technology to prevent unclean ventilated crankcase gases returning to the inlet of engines or being emitted to the environment. Not only does it save the environment, but lowers the need for maintenance.
Effectively driven by oil or electricity
The Alfdex® Oil Mist Separator can be driven either by oil or electricity, both providing high and stable efficiency. In an oil-driven application there is already a surplus of oil flow available from the engine's lubrication pump, more than sufficient to drive the separator. In an electrical-driven application the separator has a built-in electrical motor allowing you to control the speed of the separator. For an overview of the benefits, click here.
This is how it works
The crankcase separator is built around a rotating conical disc stack. The crankcase ventilation gas is fed into the separator.
Oil and soot particles are removed from the blow-by by means of centrifugal forces of 2,500-3,000 G at a separator speed of 7,000-9,000 rpm.
The droplets and particles coalesce on the discs and form larger clusters which, due to the centrifugal force, move toward the outer edge of the discs, where they are discharged onto the inner wall of the separator housing. The droplets and particles then run down to the bottom of the separator, before finally being returned to the engine sump.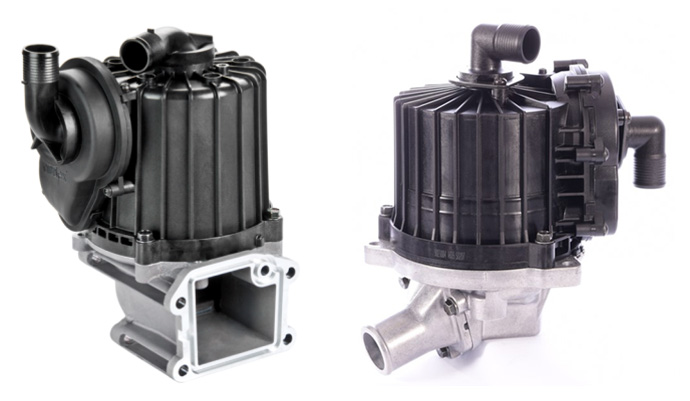 This is where it is used
Available for different engine size:

Medium duty for 5-8 L engines
Heavy duty for 8-16 L engines
Extended capacity for engines over 16 L

Can be block-mounted or remote-mounted
Is used for either Closed Crankcase Ventilation (CCV) or Open Crankcase Ventilation (OCV). With CCV the cleaned gas is guided back to the engine via the turbo and the intercooler. With OCV the cleaned gas is vented out into the surrounding air.
Technical info
If you are interested in more technical details, please see our list below, or contact us directly for more information.
Separation efficiency: Close to 100 percent, depending on version and application.
Blow-by gas rate: 50-500 lit/min, depending on version.
Temperature range: Installations at -40°C to +125°C, peak +140°C up to 5% of service life.
Internal pressure drop: None. Normally there is small controlled suction extracting gases from the crankcase.
Pressure control: An optional internal pressure control valve supporting a negative crankcase pressure.
Service life: Designed for a service life L10 of 8 years, 1,200,000 km or 20,000 hours, whichever comes first.